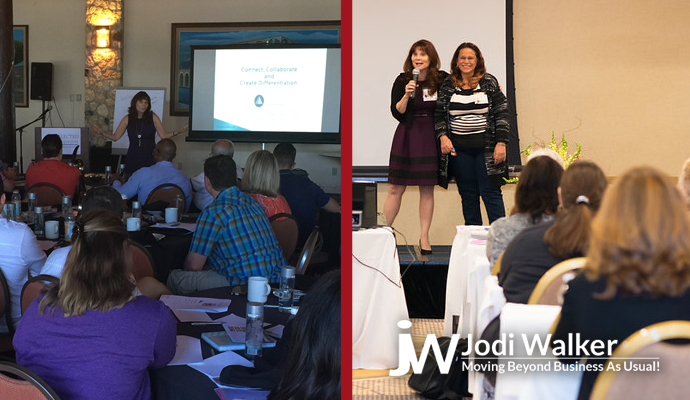 ---
In an effort to provide my mangers and supervisor's with enhanced communication skills and the ability to collaborate to increase employee engagement, I reached out to Jodi Walker. I have worked with Jodi numerous times in the past and she has always provided customized approaches that have exceeded my expectations. She knows how to address the issues and is always interested in the big picture and desired end result. I would highly recommend Jodi to anyone looking to take their team to the next level."
Mike Coyne, Director Verizon
---
Jodi's programs are designed to help your people challenge their assumptions that lead to stagnation in business, find new ways to communicate and see opportunities that others do not see.  Her message focuses on building collaborative leaders that are prepared to use their curiosity and breakthrough thinking to bring creativity and innovation to the forefront. Jodi's programs are fun, interactive and provide the competitive edge to gain a new perspective on the unmet needs of your customers so you can grow your business.
Improve your bottom line with training that is customized to the needs of your organization. We take our work and your business goals very seriously and assess accordingly.  More importantly we provide your organization with tools, resources and a dialogue that allows the training to flourish long after we are gone.  We measure our success by yours.  Companies call on Jodi when they want to foster a culture of "personal ownership" for results and build collaborative leaders at all levels of the organization.
Have you ever found yourself questioning the ROI of your initiatives? Research has shown that up to 70% of all change initiatives fail. They also uncovered that 29% of those initiatives were launched without any formal structure whatsoever. Almost every organization is facing some kind of change implementation or new initiative. Leaders often find that their teams suffer from "new initiative overload" and become resistant to new ideas. It becomes increasingly more important to build trust and focus on providing tools that inspire your team to be engaged and willing participants in the growth of the organization. This starts at the top with the leader.
Success Alliances offers customized training, coaching and consulting for the needs of your organization.  Chief Creative Catalyst Jodi Walker is a trusted advisor to help business leaders, entrepreneurs and their teams turn their creative ideas into innovative solutions for rapid growth.
Outcomes from training:
Collaborative teamwork
Improved communication
Curiosity and Entrepreneurial Thinking® as a skill
The ability to challenge assumptions and shift perspectives
Innovative culture that drives results
A safe space for authentic leaders to emerge at all levels
A culture of engagement and trust
An alignment with purpose, mission and vision
Enhanced customer experiences
The ability to manage change through creative outlets
Creativity as a way of life that leads to an innovative culture
Increased speed to implement and execute new ideas
Less turnover and more fun (Life is short; we can't wait to work with you!)
---
I had the privilege of working with Jodi at the Southern California Leadership Network, where she provided valuable leadership development training for business, government, and nonprofit executives. Her unique blend of creative curriculum design, combined with her superb public speaking and training skills, served our participants very well on their paths toward becoming more effective leaders in their communities. She is also skilled at keeping the energy high and positive during a full-day training session, encouraging interaction and participation. I would recommend Jodi for training courses to improve workplace efficiency, creativity, communication, and leadership."
Taleen Ananian
California Community Foundation
---
Call today for a free consultation!
661-297-6821